More Than A Fantasy Illustrator
In bustling Harvard Square, a slim figure with a lace-textured white umbrella on her left hand was standing at a corner. She was wearing a pure white long ballgown, with several colored spots and black lines covering the puffy, three-layered skirt. The round collar and the edge of the skirt's layers were neatly sewn with black cloth. With a closer walking, the patterns become clear – it was like a complete copy of the coloring book Secret Garden full of lines on this long skirt handmade by her.
Gradually, a couple of young children gathered around the woman and tentatively stroked her novel ballgown. She lightly raised the top-covered layer, revealing two pockets sewn on the inner lining of both the left and right sides, and there were dozens of colored Crayola markers inside the pockets. She beckoned the children and passers-by and took out the markers from her pocket and handed them over, letting them paint directly on the skirt.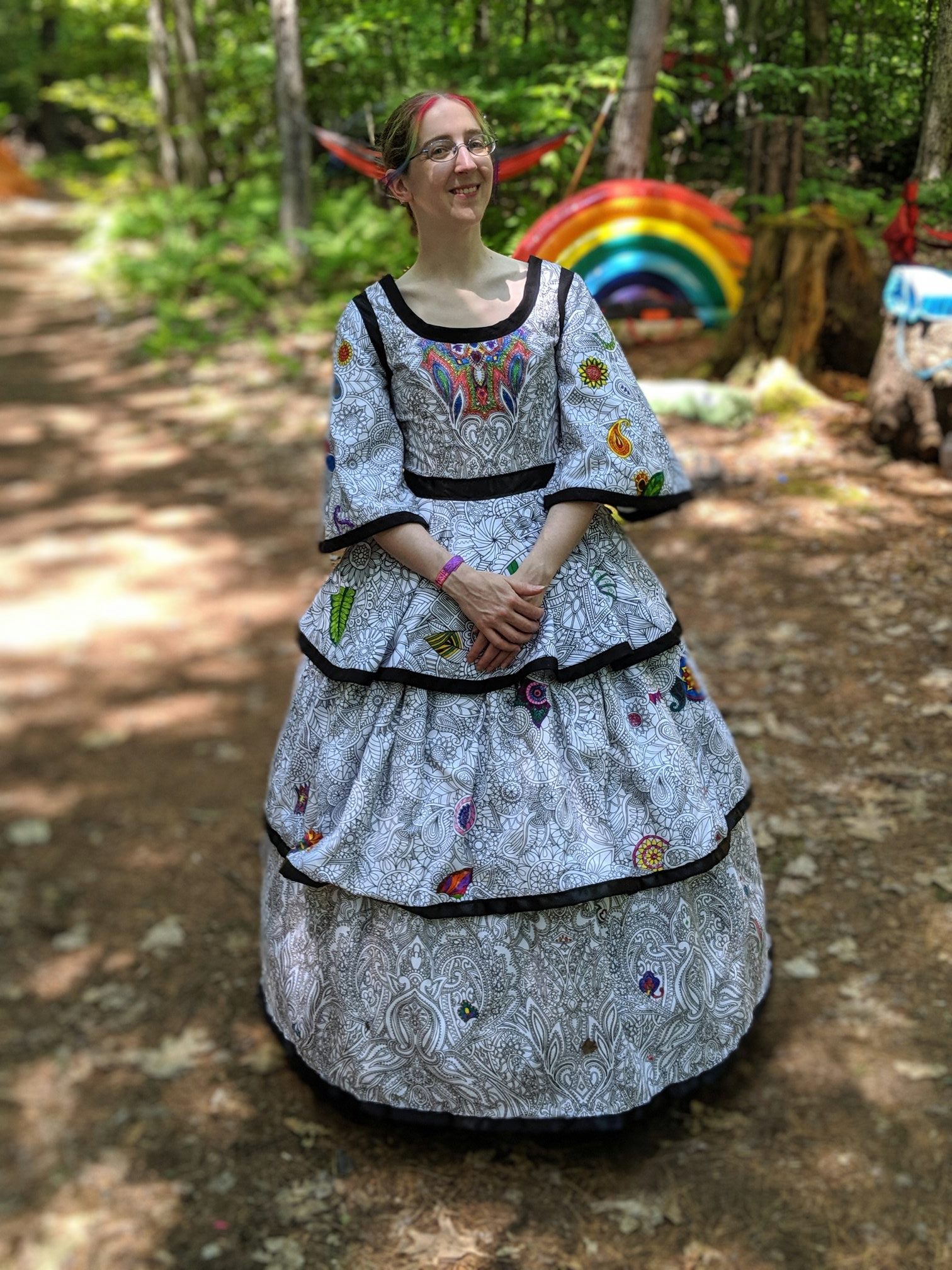 Harvard square was hosting the Honk Parade with crowds are hurriedly moving around the field, but the woman was unaffected by any noise. This was the way she "promoted" herself, letting people in the community know her identity and interact with her through the new art form she initiated.
Sarah Morrison, a 38-year-old Canadian-born artist, has a fascinating career designing book covers for fantasy and science fiction novels. Beyond the colors of oil painting, dress making satisfies her pursuit of happiness. The coloring book ballgown is not just a novelty dress for her, but also an inky treasure hunt; hidden within are all kinds of plants and curiosities to be sought.
Coming from a family without an artistic background, Morrison's love for painting originated at the age of five, but her first real foray into fantasy novels began with Dungeons and Dragons.
Morrison deeply loved dragon-related character, she collected all kinds of plush toys in the shape of a dragon at home, also you can often find the prototype of the dragon in her oil paintings.
"The world is a really scary and not happy place a lot of times; people are just stressed out, and so escapism has always been important to me," Morrison said. She has always been interested in art and put a plethora of time into it. She believed fantasy illustration could balance her stressful work and the uncertainty in daily life.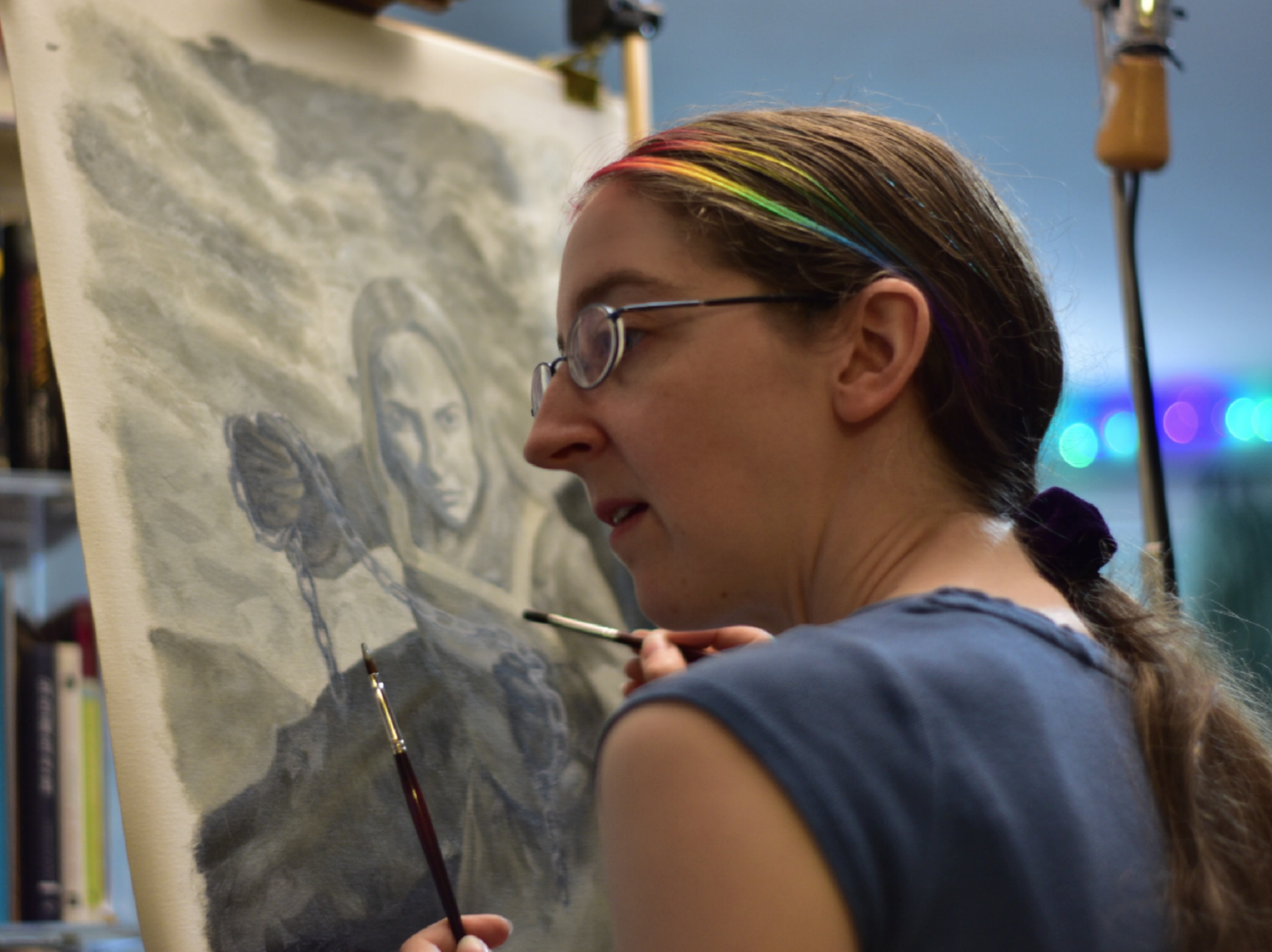 "One of the nice things about the fantasy art community in general is that people are very welcoming and giving of their knowledge," Morrison explained.
Morrison has merged her apartment in Malden and studio into one. The living room has become the spot where she usually works, and she just has her desk up against the wall and her easel right next to it. But the tiny space is still a hub for her creative inspirations. Morrison has always been creative all over her house, and in order not to affect the illustration creation, she tried her best to not be distracted by social media in her working zone. She has worked for Utrecht/Blick for more than 13 years from 2005 until 2019, and established an accomplished figure in book cover illustration since then.
"An artist makes life better," said Morrison's husband, Steven Hirsch. They first met at a Smith convention which is named as "Conbust", and then have been together for 16 years. "I get home from a stressful day at work and when I see my house is decorated with oil paintings and handcrafted accessories, all fatigue is gone."
Morrison has a thick sketch book of cowhide material, where she uses pencils to draw down every image in her mind. She takes her paintings seriously, and the protagonist in each illustration is also a real person with flesh and blood, in her eyes. She carefully flipped the cover of her portfolio, and the first page was presented with a jasper background color in front of her eyes. Morrison stroked the booklet lightly, and then turned it to me.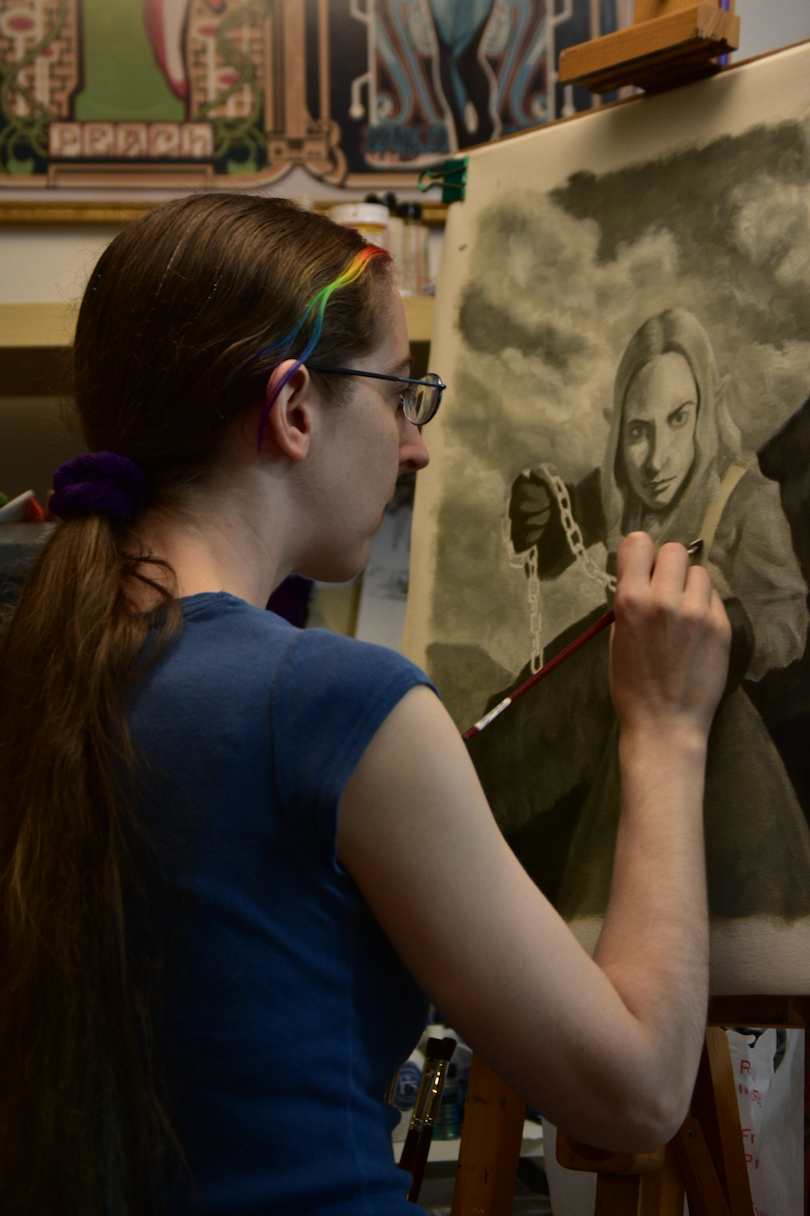 "The main character in the story has overcome some obstacles, and one of the things that she had used to break through was an iron chain. I need to figure out how to depict her and holding the iron chain in particular, and I [was] just sort of scribbling what are different ways that she could hold it that would be dynamic," Morrison said as she displayed her drafts. One standard paper size drawing was divided into dozens of small grids. She used brown-red color to outline the possible actions of the main character. Rather than imagining them in her mind, Morrison is more inclined to depict them on paper. In order to complete the creation of an oil painting, Morrison could spend as many as six to eight hours a day.
"She is very detail-oriented, meticulous and will always go the extra mile to make sure that the ruffles in that dress are painted perfectly and that you can see all the names of the books on the painting," said Steve Pomeroy, Morrison's best friend since high school, a software developer and artist.
As two people with different interests but similar passion and persistence, since Morrison moved to Newton, the two have quickly become good friends. They often share their new art creations with each other and provide opinions.
"We both figured out who we are pretty early in life: she's an artist, and as a painter, I do computer stuff and make weird computer things," Pomeroy added. "I've changed over the years, so has she, but really changed in ways that we are complementary to each other."
Morrison's oil paintings are hanging on the walls of his house, and she is using the night light Pomeroy made himself.
"She's also stubborn, in a good way. She has ways that she does things and it's the way she is, done things for years and years. She's happy with the way that they are, and she's willing to change sometimes," Pomeroy said.
Morrison is still very new to the illustration profession – when she quit working at Blick a year ago, she jumped into this new profession. Pomeroy recalled that he had never seen an artist tangled with details for a long time until they are satisfied. Morrison is an exception. She could spend several hours to adjust a wrinkle on the figure's clothes or refining the letters on books' flank in oil painting.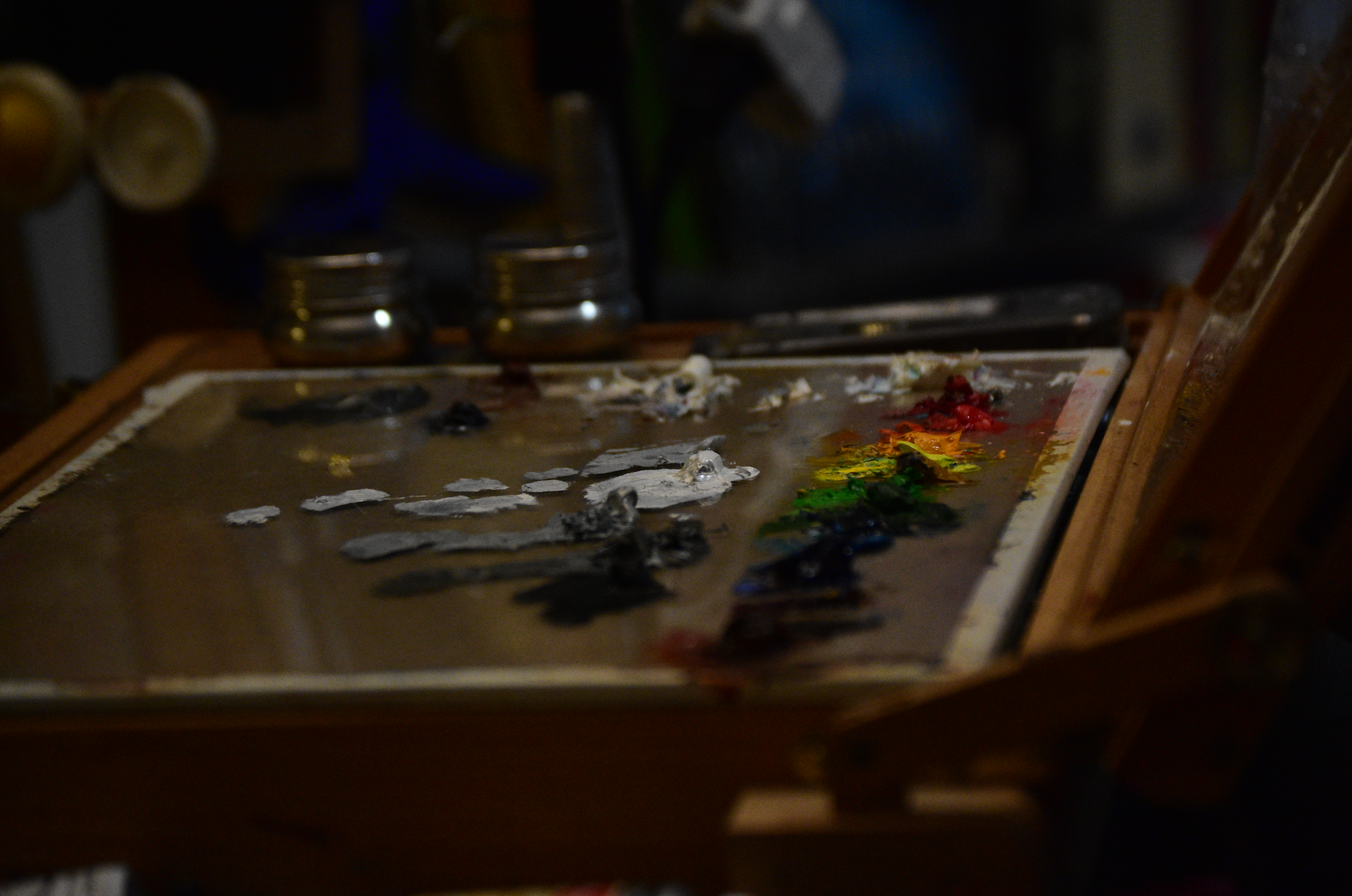 Morrison has long, light-colored hair that falls to her waist, and a pair of smiling eyes hiding behind round silver glasses. She has a soft voice but always speaks fast. Her forehead strands of hair are dyed with blue color on both sides, a style she has maintained for almost 20 years.
For Morrison, art world is both a career path and daily life. Even more worthy of her pride is that she made her own wedding dress, and Hirsch came from a physical therapist job, also willingly to prepared for the outfit together.
Morrison designed and tailored a lake-blue silk dress instead of a bridal veil for herself, with flower pattern embroidered on the bodice; and Hirsch made a 15th-century-style suit jacket out of silk to match with her.
Hirsch practices fencing and sword-fighting like a medieval knight. He and his wife used swords as part of their wedding décor which included elements of their own aesthetic. The wedding ceremony, Hirsch says, became "sort of a joint art project for us."
For the past few years, Morrison was exhibiting her creations at the Somerville Open Studio. She still maintains her goal of becoming a fantasy illustrator, and also pursuing a children's book illustrator career.
"I know people who are children's book illustrators, and who talked about the fact that the books that their art is printed in are ostensibly a children's book; but their art, it's still approachable from people from all age levels," Morrison said.